What I need to confess
I often get asked how I cope with constant pain and Joel is asked daily how on earth I keep so positive. I even ask myself how I do this whole Mum act whilst being stuck in bed 85% of the time. So I've decided it might be time to confess that…
I've been rejected and accepted for living in bed

I'm not always positive and productive because I'm always in bed

Stuck in bed with no energy, I honestly don't cop

e

It's humorous how some of my 'stuck in bed' care is curious
I realise my support network helps me survive being stuck in bed
Just in case you thought I'd gone all Negative Nelly on you here, I haven't, This post is about surviving!
But there is contemplaining in this post. I'm owning the hidden side of the warrior: the thin skinned; dirt dishing; ranting foot-stomping anti-hero. I'm owning up to my inner 5 year old, throwing her toys out the pram!
I hide my negative side, but if I'm being open about living with chronic illnesses, then I have to admit I'm not always positive and that, my friends, is okay. I need to learn to say to myself that it's okay not to be okay, too!
Being rejected and accepted 
If you knew me before I became the brain diseased Laura, then please know that I probably don't mean you as I have a cathartic moment here (unless it is you). Then you have a choice to make – contact me or fly away for good! Harsh I know, but…
When I first fell ill and could drive, make my own lunch and put my kids to bed; most people stuck around. But when I was so ill I couldn't get out of bed, things changed. Some have shown where their priorities are, so if you're waiting for me to contact you, then bad news – I won't be. I'm too stuck in bed, in pain to do that! 
I don't miss anyone that chose to leave my life, as such, but their selfish actions still play on my mind. What hurts most are the life event friends (marriage, babies etc.), those I thought of as close friends who no longer want to be there for me. It sucks to admit that, but I have to use my energy on my friends that get it.
I love the friends that stuck around when this disease started eating away at the Laura I was (I'm mostly all there now); the friends who've never doubted me. I can't tell you how much I appreciate them accepting me as I am. Thank you to those of you who don't bat an eyelid when I cancel plans; for sitting on my bed with your legs up, getting your own drink, listening when I ramble on and telling me off for doing anything, like that's normal. You keep me going on the dark days.
For my full story read this: Learning To Live One Day At A Time – My story so far
*Disclaimer – this will not be as good as The People v OJ Simpson  – True Crime Story
I'm not always positive and productive
I wake each day hoping to do so much, but I just don't have boundless energy. I do feel like I'm betraying you by even hinting at negativity when I push for positive energy so much. But, let's be honest, no one can be positive every second of the day; unless they're 'Cor Blimey' Bert or Mary Poppins.
However, life as a bed-bound mum is pretty shocking really. I try not to think about it in the grand scheme of things, so I fill my day with distractions. But despite knowing when enough is enough, I struggle to act on what my body is telling me. I'm in constant pain, whether in bed or seeing friends; so despite being so ill I'll push on.
Genuinely I often feel uncertain, not knowing how I'm going to feel each day. Sometimes I can't even guesstimate my pain level on waking, as it can change in minutes. I plan my day ahead but I've learnt to adapt plans. However, this is when I can be unproductive and it can result in one of these things happening:
I force myself through the day, thinking it will pass
I keep busy but end up not finishing anything in my planner

I forget about the one thing that does need doing

I don't meditate or give my mind some space
I don't move much – no bed yoga or even my physiotherapy exercises
I rest all day and let go or I just get really bored
My body decides to sleep all day, so I get nothing done
I find it frustrating and have so much time to think, stuck in bed day after day. I do have a Guilt Goblin that chips away at my self belief. The trail of red mist lingers with a sour taste of culpability. My self anger can last for days, but Joel's my knight in shining armour who kicks that spurious fiend back to the Goblin Gaol and curbs the self sabotage.
I feel a little dishonest about only just opening up about how dark some of my days are. I've not tried to hide it, but my naturally positive outlook means I bury the negativity. I know the only person putting pressure on me is me, so now I need to find balance by permitting myself to let that anger out to break the goblin's curse.
With no energy, I honestly don't cope 
I admit that I feel drained and rough around the edges but I have some control so I can cope. I'm scared that If I allow myself to feel negative, there would be a BOGOF deal on. I'd end up with a double negative and they don't do nobody no good!🙈
The problems which arise for those of us with chronic illness come with fat globs of failure and guilt. It can be overwhelming even though these feelings aren't validated. I can use up more energy fighting the dark days; instead of saving it for better ones.
So I've realised that if I let myself rant, I can save my mind from splintering. My safety net is in the power of words and if I put my energy into going full James Joyce mode, letting my thoughts flow on to the page, I may make some brain space. I admit  it's exhausting to let buried guilt free but I have to, before it poisons my future self.
To be able to cope with it all alone is too much and it isn't fair to transfer all the pressure on to Joel. So even though it's hard to do, accepting help has allowed us all to use our energy wisely. I can focus on being a mum and we can focus on family life.
Some of my care is pretty curious
Joel and the boys are still my main carers, even though they're unpaid – shh! They still manage to make me laugh every day, often about my own care needs! Doing that constantly is too much to ask, so I have two Carers that help me on weekdays.
Helen and Sam are both very different characters on top of knowing my needs, we  have a good giggle most days too. They do pretty standard physical care, such as making sure I wash and eat. But they also have to cheer up a lonely, bed bound 41 year old who lives in the dark, the literal dark and sometimes the dark filled mind! 
Helen's a gentle soul and brings an air of calm with her. She seems to have the ability to make me say and do sillines and I think I make her laugh most days! Sam's a more recent addition to the team. She gets everything done, despite her clumsy limbs and we giggle our way through most days. She's also owns being weird and I love that!
I've let you in on some of the darker sides of being a bed bound mum, so now I'm up for sharing what goes on beyond the scenes, why all of my Carers need to be on it with me and maybe have a little bit of crazy about them too… in a good way! 😜
They have to make sure I'm safe, especially using the walker around my room as I get over confident thinking I can do it, but I don't always see the collapse coming or Sam falling over it herself, when she brings the extra kooky. There's a need for me to have constant reminders not to bend over to pick up everything I drop. 

If I had £1 for everything I dropped each day… I'd have to um… give it to everyone that picks it up for me I guess. Then there's my lifeline, the bane of my life. It makes me feel soooooo old, but I have had to use it once, when I fell in the shower. M

y boys and a carer, who's moved on now, were here but there was a  problem as none of them responded! They all thought the noise was something other than my lifeline – a phone message or a

 dial tone!!

Doing the laundry is always a big job of washing, drying, folding etc, but I'm quite particular and my funny ways get muddled up when 3 or 4 people are doing the same job. I want some clothes rolled; my towels must never go out on the washing line; I have a specific drawer system and I like my clothes hung in a certain order. And that's me not even me being picky! The funniest thing is that Sam often puts my clothes away inside out. I don't really mind but one day I mentioned it to Helen

. When she left, I saw that she'd put the sheet on my bed inside out and thought I wouldn't notice – as if! As Joel puts it, he doesn't give a shizz (sort of), but he knows how much it bothers me as a weirdo! 

Any carers that work for me have to know how to make me a smoothie – it's the law! They have to understand the love for coconut anything and avocados in everything. They have to know how to use maca, baobab and cacao powder and the joys of mornings and spirulina (they stain everything green!) They have to have the patience to clean my bamboo straws and make the occasional smoothie bowl. Then they have to remember every ingredient they've used so I can put it into my weight loss app. I'm not fussy or anything, I just don't have an appetite and lots of deficiencies. They have to remind me to eat 3 or 4 times! 

I'm used to a room full of chatter and do like a natter. I don't mind alone time, but I just need a little bit of life to break the boredom of living in one room all the time. However, they only have a short amount of time here so they have to get used to having

to tell me to shut up 3 or 4 times and have often been found backing out the door while I keep talking.  Then they have to make it out as fast as they can before I start calling down the stairs at them! They also have to 

try and follow my crazy brain and plot twists before reminding me what my point was or whether to just go with it! 

Then there's the wheelchair – the fun of fitting it in a small car and putting it together without trapping the seat belt in the wheel (so many times 🙈). If we get to that point, it's not as simple as it seems, then we have to make sure that we've parked where I can actually use it or not. Sam's been a carer all her life but my boys do a better job driving!! 😂 Firstly she parked right next to scaffolding which made the path too narrow. Then she nearly toppled me out down the curb with no attempt to reverse. I shrieked in time and she managed to bump me over the metal ramps instead. When we arrived at the tearoom, she parked up and we ended up playing musical wheelchairs as we found out it was booked up. When we tried to get away we were already in hysterics as a couple had watched the full show from their outside table. He ended up rushing to help when my wheels got lost in traction over the cobbles and went into wheelspin. We ended up going back and driving to an alternative!
Then there's the alternative remedies, Mindfulness and meditation. They bring me a herbal tea when they get here, but not if I'm meditating – then they have to leave me be for a bit longer. They have to understand bed yoga in case they walk in and I'm doing some strange movement. They have to get used to my essential oil diffuser and the coconut oil that goes on my body hair and  in smoothies. And then, only then, do they get to embrace the world of the miraculous Migracap as demonstrated below- an ice hat to help with the pain.
I'm sure there's more, but the main thing is that I'm surviving and they support they give me enable me to be a good mum. 
Read more about what I get to up to in my days here:
I realise my support network helps me survive
Mix the combination of Joel and my boys with Sam and Helen and I have the perfect mix. I haven't always had it easy with finding the right carers, but Sue who owns the caree agency is a very good friend and we're all happy, she even comes in sometimes. I'm so lucky to be able to call my carers friends.
I can confide in both Helen and Sam and that is a crucial part of my care, especially on the darker and more painful days. Also, I'm still youngish so I need to be able to be friends with the people rummaging through my knicker drawer!
The vital role my friends and family play in my support network is crucial. I've spoken a lot about my friends in the past and how important their role is. Nothing has changed. Those friends that made the choice to stick by me are the people who keep my spirits lifted. 
I can't talk about my support network without mentioning my Dad. He'd stay over when Joel was away from work, until recently. The boys have now taken on this responsibility. He still takes Youngest to swimming lessons and will be there for music lessons, engineering club and anything else pick ups, at the drop of the hat.
With all this support, I know someone will be there for me, whatever, whenever and wherever I need. The role each person that stands with and by me my through my journey is what helps me to do more than survive with this rare disease. I thrive!
The most important thing anyone in my jigsaw of support can do is to make sure I preserve energy for mum duties. They will all tell me off for talking too much and if my pottymouth alter ego is allowed out to play, well… I think I may have a sense of humour. I think that answers the how I cope question. You have to find the funny! 
Lastly…
It feels good to admit that I'm not always positive. I imagine you'd guessed, but if I didn't feel safe from the support I get, then I wouldn't be able to admit it and own it – well nearly. Getting better at understanding my lack of energy is an on-going study, but I'm learning that if I stop comparing myself it helps. This all helps me cope.
The support I have is undeniably what helps me be a great mum.. bed-bound or not. Those Friends, family members and Carers that form my support network are like the special shells that whisper in my ear at the end of every day that I did it. That I survived even without boundless energy and that my kids did even more than that!
What helps you cope with chronic pain or illness?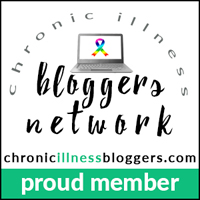 Continue reading Confessions of a Bed-bound Mum Surviving Without Energy →