I've been thinking alot about life recently. It's been 5 years since I was diagnosed with a an atypical presentation of a rare brain disease; Idiopathic Intracranial Hypertension or IIH. It's also been 3 years since I was medically dismissed from my teaching career and I never dreamt back then that I'd still be mostly bedbound and so sick after 6 major surgeries.
But, how could I have known 5 years ago that this disease would have such unforgiving consequences for impact myself, let alone Joel and the boys? We never considered that this disease would mean reconsidering our dreams, hopes and plans for life together.
On the flipside, I've found silver linings amongst this shizz! I've found new ways to connect with the world, my family and my own wellbeing and built an even better relationship with Joel and the boys – who'd have thought that could happen! I'd never have been able to see myself not teaching but I've realised that I do have other talents and other roles to fill.
So in spite of my illness turning our world upside down and inside out, I've realised that my brain disease has oddly promised me new opportunities. I know that sounds crazy, even for a self confessed optimist, so let me explain my how I got to this conclusion.

How do you live your life?
Are you a dreamer – living in a fantasy world with unrealistic ideals?
Are you a planner – always being organised and making lists?
Are you a doer – filling every waking moment and being very efficient?
Are you an optimist – being confident that there's always a silver lining?
Are you a realist – able to accept and deal with the situation you're in?
Are you an idealist – sure that happiness is a state of mind; despite the practicalities?
Are you impulsive – acting rashly and taking risks without thinking it through?
Are you a believer – having faith in what you do or trusting that your thing is truth?
I've always been an optimistic planner with an organised life. Everything had a place and everyone knew the systems. I knew was meant to teach aged 5. I taught my brother in the school holidays, when he'd much rather have played cars. I planned my life as a teacher and when I got there, I continued to live, walk and dream in teacher mode for 15 years.
Joel and I met at college and we took our time getting to know each other. I found his spontaneous nature intriguing as it was the total opposite to my pragmatism. But we had a shared sense of humour and moral standing and eventually became more than friends.
I'd describe Joel as a realistic dreamer. He adapts to every situation and gets a job done but then he'll fantasise over idealistic homes and awesome guitars. He dreams of not having to work ever again, so he can paint and play music all day and maybe study for fun!
One of the games he plays with the boys is 'lottery dreams' which is pretty self explanatory. They've eyed up many mansions, fast cars and had myriad wild dreams. I love that Joel has always encouraged them to delve into their imaginations as playing this game's just not my bag. Well, it wasn't!
But then I got brain disease and my thought process changed and as time went on I knew I had to reevaluate my life plan. I had to learn to be more impulsive and grab the opportunities to live on my rare better days. I had to learn to stop doing and even how to rest; in fact I'm still learning that. But I had to get real and accept this was my life.

Questioning My Purpose
Accepting this life has been a huge deal! When I became ill I thought I'd be back in the classroom after a change of migraine meds. But that didn't happen, I was left undiagnosed for months. When I was diagnosed, I was told treatment would be a long process but I thought I'd be back teaching after a few brain surgeries. Just like that, yep really!
I was angry about this disease for ages and had a side order of guilt and despair. Quality opportunities for me were as elusive as the hope of being pain free. I wasn't clear what my role was anymore and all that I knew was fading; I had no idea where the end point was!
It took time to sink in that 'long' in this case meant marathon long; life changing long. It made me question my role and my sense of purpose was destroyed. It didn't look anything like the life I'd planned and I had no backup option. I was a mum, wife and teacher. Brain disease had pulled the rug out from under me and messed up our lives.
Living In The Shadows
I got lost in a desert of all consuming pain and hadn't noticed the grieving process cactus spike I'd trodden on. I ways keeling over, dehydrated, unaware that I just had to wait for the cactus to bear fruit for the sweet syrupy nectar of a quality life. I coulhdn't even feel that cactus back then. I could only see what I thought was the fix; surgery. Read my story here.
I was living in the shadows, in danger of letting this rare condition make a total eclipse of my life. The Black Dog was snarling and snapping at my heels every day so I needed to tighten the leash. I realised that I was being sucked into a vast black hole and I couldn't hold on much longer. I felt like I'd been left to rot but knew I couldn't let go of the edge.
I realised I had to weigh up the quality of life I had with one of taking risks and grasping all the opportunities I could. I wouldn't let myself succumb to the darkness so my GP sorted urgent support from a counsellor. I felt like someone had my hands and wouldn't let go!
The counsellor pointed out the cactus spike that was stuck in my shoe the whole time! I got hold of it and let myself start the grieving process for life pre brain disease. I let my inner mid-tantrum toddler out. I needed to be heard to began to accept the situation I was in.
The grief and anger I felt meant I was starting out on an equally long journey to heal my mental pain. Joel and the boys mattered too much for me to let go so I worked out the etchings of a plan with my first counsellor and slowly I began to rise.
A Determined Woman Will Always Rise
As I began to resurface I knew I needed more to think about than watching TV and eating. I realised I had more resources than I thought and started to use those I knew I already had. Being Mummy, Wife, Teacher and Cook was enough to still feel needed. It was a start.
When my counselling sessions finished I was in a better place mentally but physically my health worsened. I joined online support groups and found myself helping others in similar situations. I made some genuine friends but I was putting too much energy into helping those who didn't give anything back.
I guess my nature is to nurture and I enjoyed shining some light into their day. It was a distraction from my pain too but I caught myself checking my phone every 5 minutes as it was my only connection to the outside world. This wasn't healthy and I lost sight of shining the light on myself. I needed something more than this but I was still lost.
Then one day I was reminded that I'd been going to silversmithing workshops for years before I was diagnosed. I'd loved every minute in that workshop and my toolbox was just sitting there waiting patiently. It was time for me to rise up for myself again.
Reconnecting With The World
They say creativity can transform lives. It's known that well-being and self worth can be improved through music, craft and art. Creative therapy involves expression beyond words. However, I'd never considered myself to be creative until I picked up those pliers and the sheet of silver. I thought that this might be the perfect soul healer for me.
I taught myself to make beaded jewellery as I couldn't safely work with the silversmith's tools. It was a wonderful distraction from the pain and boredom. My friends wanted to support me and I started getting orders. Soon after, I realised this thing might have potential and opened my Etsy Shop 'The Paprika Jewellery'.
Joel's recently told me that although he was inspired by my focus he'd been concerned by inability to dream. He thought I'd struggle when the day came to retire. Ok, so I didn't retire but I'm so glad he'd bought those silversmith workshops for me that birthday.
My first sale to someone I didn't know was such a high. Really I had no idea how to run a business, but it was an epic distraction. I took it at my own pace and any sale was a bonus back then. I didn't realise it at the time but I'd found a sense of purpose again.
As my self esteem improved I decided to start a blog to help me process everything that Brain Disease threw at us. I was embracing the grieving process now. My blog focussed on raising awareness of my story, IIH, and challenge the misconceptions of migraine.
People loved to hear about my journey and my blog engaged others affected by IIH. I was sporadic with my writing as it was such hard work for my brain. It still is but don't tell anyone! Yet again I was helping others but I'd found my own sense of purpose this time.
I took a total break from everything in 2018, as I had 3 surgeries. I really needed that rest and I focused entirely on being with my family. By now I'd recognised the importance of my role as a wife and mother so I took this seriously. I realised how lucky I was to be at home every day so that when the kids and Joel came home, I could just listen to them.
If I was teaching I wouldn't have had this opportunity so I embraced it. I've become the family facilitator. I've been able to support the kids learning and build a stronger family bond than I could have done in my old life. Now I celebrate the little things too.
Taking The Opportunities
Since recovering from my surgeries I've been building up my energy whilst learning to pace myself. But there's so much I want to do right now so I'm practising matching the energy I have with the energy I need. I'm ready to grab every opportunity and achieve all I can.
I still spend most days in my bedroom as going downstairs is enough for a wipe out. I can use the opportunity to write, make jewellery and rest so I can make the most of the better days, doing what matters most; being with my family (maybe even going out) and seeing friends . I still crash afterwards but it's worth it to be with those who matter most!
I'm focusing on my new jewellery collection and the relaunch of my shop at the moment. I've putting into practice the things I've learnt about business when I was resting. I'm excited to develop my vision of writing and creating jewellery from positive themes.

The potential my writing has to empower women was a key factor in my decision to create gifts or treats which bring hope for the future. It's a bigger task than I'd expected as I'm also giving my whole shop a makeover. I pushed myself at first but realised it was too much. So I'm practising balancing work and wellbeing to achieve my goals without overwhelm.
Whilst starting this new chapter, I was approached to write for Teva Pharmaceutical's 'Life Effects' Patient support. It feels amazing to be sought out to blog alongside some amazing advocates, let alone getting paid for it (boom)! I'll be writing a blog every 2 months for them but they my health comes first, it's slap bang in the contract so I'll pace myself!
When I wrote my Bio for the site I had a bit of an a-ha moment as I was reading it aloud to Joel. He stopped me and pulled me up where I'd written that I was an 'aspiring' writer. I want to write a book and see this opportunity to work towards that, but Joel made me recognise that I'm already a writer. Apparently a talented one at that according to Joel.
We discussed why I'd written that and I ended up unpacking a lot of the self doubt I'd been feeling since being offered the role. However I've now pitched my first blog idea, which went down with a 100% yes straight away 🙌. This will be my next blog and I'm so happy to be using my story to help others. Keep an eye out as I'm sure I'll keep it on the down low.
As I'm always working towards something now, I have to plan my time carefully to prevent overdoing it. Flare ups happen and still hit from nowhere sometimes so I have to be flexible about what I do each day. As I work on both blogging and getting a business going again, I have to check in with myself so I don't burn out from self inflicted expectations.
I'm so excited to see how my hard work for my shop pans out and to see where this writing journey takes me. Believe it or not, I'm actually daring to dream a little about both of these things. There it is, I got to the whole me dreaming bit at last! ✨

The Promise of Quality of Life

A long and winding path has brought me here; to a place where I feel incredibly lucky to be surrounded with live and support. A place where I am still achieving things even when I'm mostly bedbound, a place I never dreamed I would be.
The pre Brain Disease Laura would be proud of me now. I'm still focussed but I now dare to believe that there's more out there for me. My surgeries have lifted the brain fog enough for me to kick daytime TVs backside and do something that matters. My optimistic view on life has helped me but finding so many silver linings along this journey has been my soul food!
Questioning my role has been liberating. If I was teaching I wouldn't have discovered other talents and explored what I have to offer. I definitely wouldn't have had the guts to pitch my heart to the world. I wouldn't have discovered my naturally empathetic nature and I certainly wouldn't have felt a need to offer positivity and light with those who need it.
In the lights that scatter the Brain Disease trail we've found morsels of glue which have reinforced my bond with the boys. Ok so maybe mixing teenagers and glue isn't the best use of a metaphor but the relationship I have with them now is more important than I ever thought it would be. Their company is the biggest reward for getting through the pain!
I know Joel is proud of me for the effort I've put into my own wellbeing; which is a work in progress. His belief in my writing ability is empowering and I couldn't run my business without his bucketfuls of support. He helps me dream and believe that I can. His trail of breadcrumbs led to my hope and determination so I could make it out of the shadows.

My perspective on life has changed completely due to IIH and has opened my eyes to the amazing opportunities out there for me. Although the positives can't undo the abrasive nature of my pain or how it wears away on all four of us; it has shown that we can still live a quality life. So, directly because of brain disease I now rise, even stronger than before.


What has changed the way you look at the world?
Join my VIP mailing list today and get 15% off your next order at The Paprika Jewellery. Get free access to my resource library & download my Free Journal Prompts with positive lines from my poems now https://mailchi.mp/e35f39e6a929/paprika-strength-of-tears-news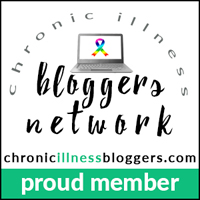 ✋ Hey there! You could really help me out. Just one minute of your time to press that share button helps me so much! You'll literally make me do a bed-bound happy dance. Now there's an image for you! Go on, you know you want to!